Body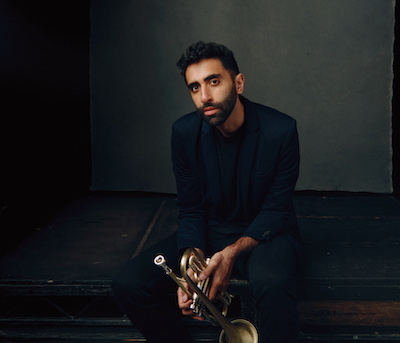 From New York City to Merchant Hall, witness "The Big Apple's" best and brightest emerging jazz talent in Jazz at Lincoln Center Presents: Songs We Love (3/5). Trumpeter Riley Mulherkar, the "youngster to keep an eye on" (The Wall Street Journal), leads this all-star band, playing hits from the first 50 years of early blues and jazz music. We sat down with Mulherkar to learn more about his passion for jazz, his history with Jazz at Lincoln Center, and more!
Hylton Center (HC):  You wear multiple hats as a highly skilled musician, composer, arranger, community activist, and advocate for jazz and the arts. What are some highlights you've experienced participating in these roles, and what inspires you about each of them?
Riley Mulherkar (RM):  To me, there is actually very little separation in all of the various roles I might participate in because they are all such an inherent part of the tradition of jazz. Composing and arranging is a part of any jazz musician's life, whether that means making up a riff on the spot or writing out a chart in advance. And at its core, jazz has always been community music, so being involved in advocacy for jazz and the arts at large is a vital part of being a musician in the 21st century. In terms of highlights...too many to count! But my greatest memories are the moments when I get to witness the power of the music onstage—with peers like the folks in the Songs We Love band, and with heroes of mine like Kenny Barron and Maria Schneider.
HC:  How has your involvement with Jazz at Lincoln Center shaped who you are as a musician today?
RM:  Jazz at Lincoln Center (JALC) helped shape who I am as a musician before I even knew what it was! When I was in elementary school, I would listen to my babysitters play Jazz at Lincoln Center's Duke Ellington charts in their high school jazz band, and the power of that music is what inspired me to pick up my horn. Once I finally moved to New York and started performing at JALC, it was an invaluable space to present music for engaged audiences, experiment with new projects, celebrate the history of the music, and find community with my peers. The show Songs We Love is a direct result of that experience and the community that was built around it.
HC:  Who are some of your biggest artistic influences and why?
RM:  Many of my biggest artistic influences are jazz musicians of our time, from Wynton Marsalis to Jason Moran to Bill Frisell to Maria Schneider. There's something about getting to hear these artists live and in person that is so inspiring, and jazz musicians are always so generous about passing down the music to the next generation, so I love to ask my heroes questions whenever I get to be around them.
HC:  What do you love about jazz music and the jazz scene?
RM:  Jazz music offers us a lens through which to understand the history of our country, and the lessons the music teaches us—inclusivity, listening, improvisation, and freedom, just to name a few—give us a philosophy by which to live on and off the bandstand. I love the jazz scene in particular because it is intergenerational—this music has been handed down generation to generation, and the degrees of separation from the creators of this music is always less than one might think.
HC:  As someone who is actively involved in arts education initiatives, both as an ambassador for Jazz at Lincoln Center's "Jazz for Young People" program and a faculty member of the College of Performing Arts at The New School in New York City, what advice would you give to young aspiring musicians? 
RM:  My biggest advice is to invest in the relationships around you—with your peers, with your teachers, and with your community at large. It's through those relationships that you can find musicians to play with, mentors to learn from, and venues to share your music with audiences. There are no "big breaks" in this business, but the community will serve you for a lifetime!
HC:  What are you looking forward to most about bringing Songs We Love to audiences at the Hylton Center? 
RM:  It's such a joy to get to share these songs with new audiences every night, and often with folks who may have never been to New York City before, let alone Jazz at Lincoln Center! We have found such joy and community at Jazz at Lincoln Center over the years, and to get to share that with audiences across the country is a true privilege. 
Catch Riley Mulherkar's performance with Jazz at Lincoln Center on March 5. Tickets are on sale now.