Body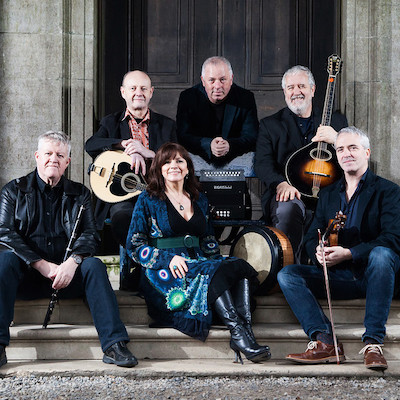 Internationally acclaimed Irish folk band Dervish (3/19), have been making Irish music for more than 30 years. BBC revered they're "an icon of Irish music" for their live performances featuring stunning interpretations of traditional songs. Their studio and live albums —13 to date—make up one of the most outstanding catalogues in Irish music. However, the group's beginnings were humble, as Dervish formed in 1989 when the four founding members met playing informal sessions in the pubs of Sligo, Ireland. "We basically were a group of friends that were growing up together," founding member Shane Mitchell said in an interview with NPR. "We were asked to make a recording of local music one time and we had to come up with a title for the album pretty quickly. And we were just called The Boys of Sligo."
All six members of Dervish are steeped in the musical traditions of counties Sligo and Leitrim—an area of north-west Ireland that matches the Atlantic coastline with storied mountains and rural landscapes. These locations have inspired a host of musicians, artists, and writers, including acclaimed Nobel Prize-winning Irish poet W. B. Yeats. Dervish was also given their hometown's highest honor in 2004 in a civic reception, where they were presented with the freedom of Sligo City, an accolade the band shares with Yeats himself.
Irish music is an incredibly popular genre worldwide, a fact that never ceases to amaze and delight Dervish. "We [have] found a lot of closet Irish folk music fans…I am so proud of our music, that there's so much love and people get emotionally attached to us," Mitchell told NPR. "It's a very positive genre."
Experience the positive energy of Irish music yourself with Dervish on March 19 in Merchant Hall. Purchase tickets today.