Body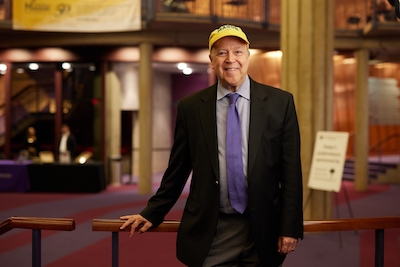 Honorificable
Okay, that's more syllables than are strictly necessary, but I like the sound of it (kind of like a verbal drum roll) as a signal of the high esteem in which I hold our Hylton Center Gala Honorees, Carlos Castro and John and Tracie Jacquemin/The Jacquemin Family Foundation. 
Carlos is of course the founder of Todos Supermarket and Todos Neighborhood Market in Woodbridge, and a tireless advocate for the dynamic and diverse immigrant community in Prince William County. He was a founding member of the Executive Board of the Hylton Performing Arts Center and continues to be a strong supporter and adviser. 
I'll never forget how he helped me navigate a live radio interview – in Spanish – promoting our concert with the great Mexican-American singer Lila Downs some years back. He let me answer the host's questions as far as I could and then graciously and seamlessly stepped in to get me out of trouble and make sure the listening audience got the message. I'd say he deserves a Gala Honor for that alone—but he's spent a lifetime building communities both here in Prince William and in his native El Salvador, and he always sees the key role that the arts can play as an important instrument in that work. So, gracias amigo, and we are proud to honor you at our Gala this year.
The Jacquemin Family Foundation is another example of community-building at its finest, personified here by John Jacquemin. John has served George Mason University with distinction as a member of our Board of Visitors (the governing body appointed by the Governor) and the Board of Trustees (responsible for the oversight of our charitable arm, the GMU Foundation). He and his family have been major benefactors on several fronts, including Education Abroad, the Smithsonian-Mason School of Conservation in Front Royal, and of course the naming gift for the beautiful Jacquemin Family Foundation Rehearsal Hall, the signature space in our Education Wing.
But I've got an additional story on John as well. He is an actor! I've had the pleasure of directing him in a couple of outdoor dramas for the Stone Hill Players, at the magnificent amphitheater created by John Henry at Stone Hill in nearby Rappahannock County. If I was nervous about directing a gentleman who held prestigious leadership positions at my employer, he quickly put me at ease with his gracious and solicitous demeanor in rehearsal. So thanks, John, for that and for you and your family's truly transformative impact on the Hylton Center and Mason.
Therefore let it be known that these are highly honorificable honorees. You can read more about their stories elsewhere in this newsletter. You might even be inspired to join us on April 28 for our 13th Annual Gala (widely known as the best party of the year) to join in the honoring!
Rick Davis
Dean and Executive Director