Body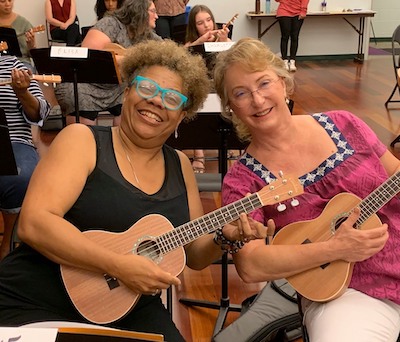 The Veterans and the Arts Initiative offers an exciting lineup of free workshops and events open to Veterans, Servicemembers, military family members, and military caregivers. There are so many great options to choose from— we hope you'll consider joining us in 2023!
Our popular Veterans Virtual Guitar Workshops (1/24 – 3/28), Level I and Level II, return online via Zoom. Taught by guitar instructor Glen McCarthy, these workshops are perfect for beginners and more advanced players who want to hone their technique. Looking for something just for kids and teens? Check out our Songwriting Series for Military Kids (2/5 – 3/12). Offered virtually this year, this six-week series presented by Mason Community Arts Academy and the Veterans and the Arts Initiative teaches military kids and teenagers between the ages of 10 and 17 songwriting skills in a virtual, collaborative environment. After five weeks of virtual workshops, students will have the opportunity to visit a professional recording studio on the George Mason University campus in Fairfax, VA for the final workshop on Sunday, March 12. 
In March and April, be on the lookout for more workshop opportunities, including:
The Hylton Center and Prince William Public Libraries have also teamed up again to provide the following Veterans and the Arts Initiative workshop in our community:
In May, join us for a monumental concert by CAMMO Voices (5/13), joined by country singer and songwriter Donnie Isaacs, a combat Veteran who tells his service story through his music. This special performance will honor Servicemembers, their spouses, and families. Sponsored by George Mason University's Veterans and the Arts Initiative, experience the healing power of music infused with a message of hope and community, and experience the diversity and excellence that exists within our military and Veteran communities when CAMMO Voices takes to the stage. Rounding out the concert will be the ensemble @Eaze and vocal quartet, Voices of Service. This performance is FREE for Veterans and Servicemembers with ID. (Up to two tickets each can be claimed in person at the Hylton Center Ticket Office.)
Learn more about spring 2023 Veterans and the Arts Initiative workshops and events at the Hylton Center.