Body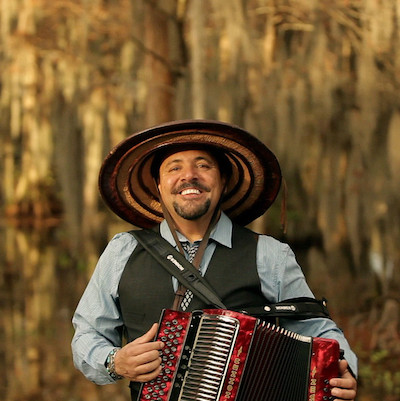 For nearly 40 years, two-time GRAMMY Award-winning, 8th generation Louisiana Creole, Terrance Simien, who will perform on the Hylton's American Roots Series on February 25, has been shattering myths about what indigenous Zydeco music is—and is not. It most certainly is American roots music, born of the Black and mixed race French-speaking Creoles of South Louisiana. It's exhilarating and complex and diverse. It's inclusive.
"If you're French, you're part of it. If you're African, you're part of it, Native American, Spanish, German, you're a part of it," Simien said in an interview with Connect Savannah. "I think people subliminally, when they hear the music, if they're from any of these cultures they connect with it. It's an Old World sound, and people can identify with that immediately. Something about the medicine in the music that people can feel, you know?"
Born in 1965 in Mallet, Louisiana, into the hippie folk and soul music era that still intrigues him to this day, Simien's interest in Zydeco roots music was piqued at age 13 after sneaking into music clubs to listen to local bands where he fell in love with the music's danceability, broadly accepting ethos, and laid-back vibe. He learned to play the accordion and started assembling a band, followed by touring professionally at 18, and by 20, he was already sharing the stage with Fats Domino and Sarah Vaughn at the Bern Jazz Festival. After that, his career exploded.
In the decades since, Simien and his band have made music with Paul Simon, Stevie Wonder, Los Lobos, Dr. John, Marcia Ball, and Dave Matthews Band, to name just a few. Their music has been featured in TV commercials and a dozen or more films, including the blockbuster The Big Easy. Simien has won two GRAMMY Awards, played on more than 20 albums, and appeared in Disney's The Princess and the Frog as a guest singer on the Zydeco-inflected track "Gonna Take You There." Simien also created Creole for Kidz, a multicultural performing arts program that has reached more than half a million students around the world.
Not only is Terrance Simien a renowned musician and performer, he's a natural teacher, and we look forward to welcoming him to the Hylton Center as both a world-class artist and an Artist-in-Residence, where he and his band will work with students in the community through interactive classes and workshops that share the Creole culture of South Louisiana and Zydeco culture. 
Don't miss Terrance Simien & the Zydeco Experience in the intimate Gregory Family Theater on February 25!