Body
As part of an extensive residency leading up to their February 25 performances at the Hylton Performing Arts Center, 2022/2023 Hylton Artist-in-Residence Terrance Simien & the Zydeco Experience will participate in at least five events over the course of a week, including the following: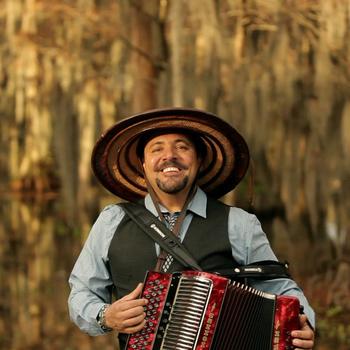 A classroom discussion with Musical Technology students at Colgan High School, featuring how Simien has a fruitful career while playing specifically roots music, the evolution of music production and where things stand now, and how to monetize your career. 
 
A lecture and performance with students at Potomac Shores Middle School, exploring the Creole culture of south Louisiana and the American roots music genre, Zydeco, that is the traditional folk music of the Black and multiracial French-speaking Creoles of Louisiana.  Terrance Simien will be joined by his band the Zydeco Experience.
 
A discussion with George Mason University students in a "Folklore Theory and History" course taught by Prof. Lijun Zhang, conversing about

Creole culture and Zydeco music.

 
 

A lecture and demonstration for the Lifelong Learning Institute of Manassas.

Participants will meet Terrance and the members of his group to learn about their backgrounds and how they came to perform Zydeco music. Simien will lead a discussion on the roots and history of this Black roots music genre, followed by a demo of some of the instruments that make up their band. 


 

A digital classroom discussion with George Mason University Arts Management students and alumni.


 

Two field trip performances, Creole for Kidz, for students in Prince William County, City of Manassas, and City of Manassas Park.
---
After a delightful collection of community activities, Terrance Simien & the Zydeco Experience finishes its time with its two highly anticipated performances at the Hylton Performing Arts Center on February 25. An 8th generation Louisiana Creole, Simien has dedicated his career to shattering myths about what indigenous Zydeco roots music is—and is not.
Grab your tickets and don't miss your chance to experience the soulful, rootsy sound of one of the most respected and accomplished artists in American roots music today!
Each season, the Hylton Performing Arts Center invites artists and ensembles with distinctive and innovative artistic voices to make the Hylton their home for a residency. Hylton Artists-in-Residence participate in a variety of activities, designed to engage and inspire the diverse audiences both at the venue and in the community. Learn more about the Hylton Artist-in-Residence program.
This engagement of Terrance Simien & the Zydeco Experience is made possible through the ArtsCONNECT program of Mid Atlantic Arts with support from the National Endowment for the Arts.