Body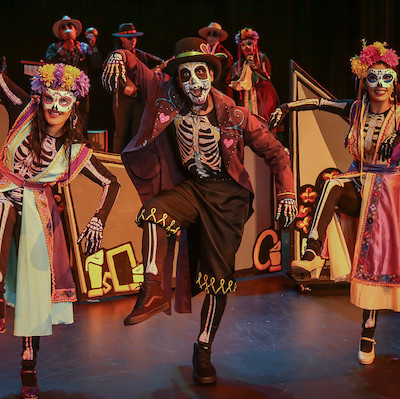 If you haven't celebrated el Día de los Muertos before, you might question why planning a party for deceased relatives is such a festive occasion. 12-year-old Vita Flores doesn't quite get it either – but in Mexico Beyond Mariachi's SUGAR SKULL! A Día de los Muertos Musical Adventure (11/13), a spirited candy skeleton springs to life taking Vita on a magical, musical journey to unravel the true meaning of the holiday. But what exactly is el Día de los Muertos?
Known in English as the Day of the Dead or All Souls Day, el Día de los Muertos is a Mexican holiday celebrated each year from October 31 – November 2. The roots of this holiday go back some 3,000 years to the rituals honoring the dead in pre-Columbian Mesoamerica. The Aztecs and other Nahua people living in what is now central Mexico held a cyclical view of the universe, and saw death as an integral, ever-present part of life. Today, families continue in these ancient traditions by celebrating the memories of their loved ones who have passed on, setting up candlelit altars in their homes called ofrendas. The ofrendas might include photographs, relatives' favorite foods, and objects they cherished in their lifetime. Some families also have celebrations at graveyards. Likewise, skeleton decorations abound with papier-mâché, plastic, and candy – big and small. It's a joyous remembrance of family and the cycle of life.
SUGAR SKULL! A Día de los Muertos Musical Adventure is a family-friendly production where Vita dances with ancient ancestors, sings with a sorceress, and even gets to meet the famous Catrina Calavera. The fun doesn't stop there though—join us after the performance for arts and crafts activities in the Didlake Grand Foyer where families can make their own Sugar Skull art and more!
Don't miss this exuberant musical celebrating family and tradition— a perfect family outing whether you're new to the Day of the Dead or have celebrated the holiday with your loved ones for years.