Body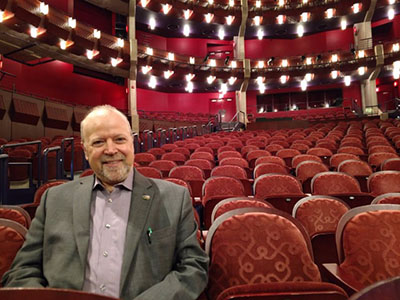 Thankfully Yours
When the calendar tips over into November (and the Hallowe'en candy is either eaten or put into the freezer to be forgotten), we inevitably begin to think about the Next Big Holiday, Thanksgiving. Food, family, football, and festivities abound, and for those of us fortunate enough to be able to indulge in our choice of abundance, it is truly a special time.
It's also good to remember those for whom "abundance" is not a regular visitor. We have a long tradition at the Hylton Center of partnering with local service organizations and charities to collect needed items during the holiday season, and we will be continuing that this year. As the Big Days approach, look for a Big Box in the Didlake Grand Foyer and, on your next visit, drop off whatever our partner charity identifies as its area of greatest need. Sometimes it's food, sometimes household necessities, sometimes warm coats and scarves and stocking caps. 
Speaking of warmth, there is so much heat coming to our stages over the next few weeks. My favorite concert anywhere – and I mean anywhere – is Chanticleer at the Hylton Center – a perfect match of exquisite singing and pristine acoustics that has become a beloved holiday tradition for both the artists and our audience. If you've never experienced "the world's reigning male chorus" (according to the New York Times) in Merchant Hall, please treat yourself to a post-Thanksgiving musical repast. You'll see why this group is often called "an orchestra of voices."
I'm also thrilled – and grateful – to report that your most humble servant/Executive Director will be back on stage with the American Festival Pops Orchestra narrating "'Twas the Night Before Christmas" to that soaring, cinematic Randol Bass score, under the debut baton of Maestro Peter Wilson. I can't wait! 
And there's a lot more besides, from jazz and gospel to dance, drama, and opera, coming soon to a warm and friendly theater near you. I urge you to savor the contents of this newsletter like a holiday buffet (overindulgence is encouraged!), and get your calendar ready to ink in some great performances and special events.
Finally, and most importantly, please know how grateful we are that you have chosen to be part of the Hylton Center community. The presence of the arts in all of our lives is indeed something to inspire gratitude – and your presence in our artistic lives makes our work possible, meaningful, and, yes, thankful.
See you in the theater, with a spare stocking cap!
Rick Davis
Dean and Executive Director