Body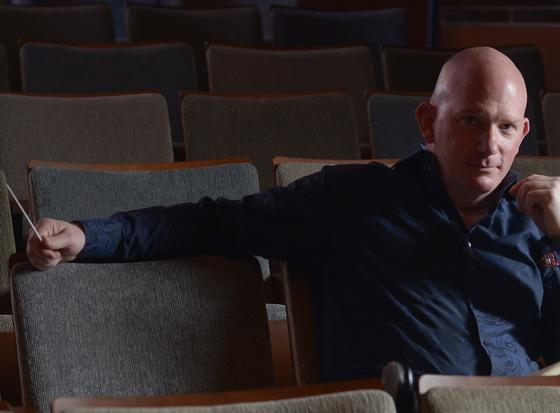 Last spring, Maestro Peter Wilson picked up the baton, becoming the new artistic director and conductor of the American Festival Pops Orchestra (AFPO), effective the 2022-2023 season. No stranger to AFPO, Maestro Wilson was the orchestra's longtime concertmaster and principal violinist, and we're excited to see his official AFPO conducting debut in Holiday Pops: Songs of the Season at the Hylton Center (12/9) and the Center for the Arts (12/10). In the meantime, we sat down with AFPO's new maestro to learn a little bit more about him.
As we know, you are a skilled violinist and conductor, but if you could learn to play any additional instrument overnight, what instrument would you choose? Why?
PW: I've always had this fantasy of being a rock or jazz drummer. Even when I was a little boy studying the violin, I was drawn to the drum set parts in pop songs on the radio. Let's face it; there's something really cool about being able to lay down some great drum solos! Coincidentally, my dear friend and amazing AFPO drummer, Harold Summey, started out as a violinist when he was growing up, so I guess I'll just have to live vicariously through him! He got to live my dream!
---
You have played at countless venues, including the Kennedy Center and the American Embassy in Paris. If you could perform anywhere in the world, where would you want to perform and what piece would you open the concert with?
PW: I have never been, but think I would love to conduct a concert at the Hollywood Bowl, just because of its rich history and the magical performances that have happened there. Perhaps I could take the AFPO there one day and conduct a concert of film music, featuring John Williams! I might have to open that concert with Aaron Copland's "Fanfare for the Common Man."
---
After serving 30 years as String Section Commander for "The President's Own" U. S. Marine Band, what lessons did you learn from that experience that you try to implement in personal and musical endeavors now?
PW: Of my 30 years as a Marine violinist of The White House, I served 13 years as String Section Commander, and I learned so many things along the way that shaped who I am today as a person and a leader. In my subordinate role in middle management, I learned to listen to everyone else's ideas during meetings before offering my own opinion on matters; and as a leader of those in my section, I learned to celebrate the uniqueness of each member and champion them to have their own voice rather than expecting the same from everyone. As long as folks are meeting their responsibilities, the job is far more engaging with the diversity of personalities and artistry.
---
You take pride in your goal to promote new works of music. What elements draw you to a particular piece of music?
PW: I appreciate composers who offer a unique voice within the traditions of our art form. There's never only one way to be introduced to new music, and sometimes one discovers a composer by accident because his or her work appears on a concert you are attending. Circumstances can also play a role in how music is received. I'm drawn to anything that moves me, but I always seek out the contrasts in works. In my experience, drawing attention to contrasts, whether dynamic, textural, or tonal, is what brings out the magic in a work, old or new.
---
Who is a musician, alive or deceased, that you wish you could share dinner with, and what would you talk about first?
PW: Honestly, even having worked with John Williams on two occasions, I never was able to have dinner with him! That would be an absolute delight, and I would enjoy asking him questions about how he conceived some of his most iconic themes. I would then dive deeper into his career as a conductor and perhaps explore how he got orchestras to create the sound he had in his head as a composer. He is an idol as well as a mentor to me, and simply being in his orbit is a thrilling experience.
---
You've had the privilege of meeting many musical legends including Sting, John Williams, Billy Joel, Stevie Wonder, and Bruce Springsteen. Who are the top three musicians with whom you wish you could collaborate?
PW: Well, two of those five were musicians I had the privilege of collaborating with (John Williams and Stevie Wonder), and those experiences were mind-blowing and life changing. Billy Joel has been a lifelong idol of mine, and he's had violinists in his band from time to time when touring. He might have to be first on my list, and it would be an absolute dream-come-true to collaborate with him. I'm a big fan of Bruno Mars and Silk Sonic, so finding a way to collaborate with them would be a bucket list event. As a conductor, it would be thrilling to collaborate with violinist Gil Shaham, as I have always been an enormous fan of his artistry.
---
What are you looking forward to most in your new post as Artistic Director and Conductor of the American Festival Pops Orchestra?
PW: I have such a deep respect for all the musicians who make up the AFPO. After all, they have been my friends and colleagues for at least 12 years, and this tremendous ensemble has become family to me. I look forward to not only making great music with them but finding new ways to showcase their amazing talents. Equally important to me is maintaining the engagement we have with our wonderful audiences who have supported us for so many years. This is truly one of the unique elements of the AFPO concert-going experience. We break the fourth wall and connect with our audience at every level. I loved this during my many years serving as AFPO concertmaster. I look forward to our Hylton Center and Center for the Arts communities taking greater ownership of their orchestra. It belongs to them as much as to the musicians on stage, and there is nothing greater than the magic that is created when the AFPO and the audience combine their energies. I cannot wait to continue this great journey of celebrating the best of this Pops Orchestra genre!
Purchase your tickets now for Holiday Pops: Songs of the Season at the Hylton Center (12/9) and the Center for the Arts (12/10), and welcome Maestro Wilson to the podium.