Body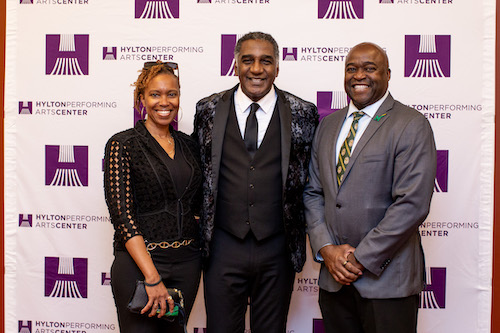 The Hylton Performing Arts Center presented An Evening with Norm Lewis on September 18, an event that was both preceded and followed by activities involving the local Prince William County community. Prior to the performance was the Copper Circle Dinner, the Hylton Center's annual celebration of donors who support the Hylton Center each year through their participation in the "Copper Circle." More than 100 donors and guests enjoyed tours of the Education and Rehearsal Wing, an elegant reception, and a seated, three-course dinner. Guests were joined by President Gregory Washington and Mrs. Nicole Washington, and then enjoyed the fabulous concert by Norm Lewis following the dinner.
Additionally, Lewis hosted a masterclass at the Hylton Center the following day with high school students from Prince William County, City of Manassas, and City of Manassas Park on September 19. Local high schools included in the masterclass were Colgan, Osbourn Park, Woodbridge, Osbourn, and Manassas Park. This closed opportunity for area students was organized through the Hylton Center's Education Initiative as part of the Hylton Center's commitment to provide local students with opportunities to work with national and international caliber artists.
Hylton Center Education Coordinator, Marit Majeske, shared, "I am delighted that Norm Lewis shared his time and expertise with our local students. The growth in these student performances in 20 minutes of working with him was amazing. He instantly created a supportive atmosphere for all the students to learn. In addition to working with student performers, he provided thoughtful advice to all in attendance regarding auditioning, pursuing musical theater as a profession, and performance technique."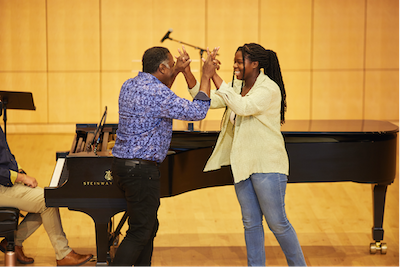 Regarding the masterclass, participating student Sophia expanded on the experience, "Prior to this masterclass, I couldn't help but stress upon the idea of Mr. Lewis critiquing any mistakes and problems I could make during my performance. What surprised me is that after my first attempt, and in the tries that followed, when I took his notes and implemented them into my performance, he was proud of the improvement and complimented me. His quick wit, humble, and supportive demeanor not only made me comfortable during the process, but the other performers as well. I'm glad to have had the opportunity to participate in a masterclass with Norm Lewis and watch fellow performers go up and learn from him as well. It is an experience that I will carry with me and never forget."
Joel Shapiro, choral director at Woodbridge Senior High School, not only noticed the impact of Lewis on the students but on the teachers, including himself. He noted, "The workshop with Norm Lewis was inspirational. He invigorated everyone in the room with his positive energy and love for the students. The impact from Mr. Lewis will last far beyond the two precious days he spent with the Prince William County community!" 
Broadway superstar and beloved performer Norm Lewis won't be forgotten anytime soon by Prince William County's community and the Hylton Center's audiences.